technology management, cybersecurity, guidance & support
to businesses around the world.
Work with a Managed IT Services Provider who sees IT support as more than just troubleshooting, but who supports your business through strategic technology planning, expert IT consulting, and IT services that make a difference to your humans and your bottom line. 
Elevating human connection to make a difference in people's lives
Since 2003, we at Solid Systems have been setting ourselves apart from other IT companies by helping businesses to embrace technologies that increase productivity, enhance efficiency, and see teams collaborating seamlessly, no matter where they may find themselves in the world. We love seeing humans working smarter, not harder, and finding themselves more connected to the work that they do, and to the people who matter the most to them. 
As an experienced IT company in Cape Town, IT company in Johannesburg and IT company in London, we offer:
What do you need from an IT company?
Every business has its own unique needs when it comes to technology. As a global IT company, and as an IT company in South Africa, we have spent the last two decades helping the companies we work with to meet those needs, step into the future with confidence, maximise value, navigate the modern workplace, and do more with the technologies at their fingertips.
I want to secure my business against threats
When it comes to keeping your business protected, we take a holistic approach which includes email security and impersonation protection, endpoint detection and response, and proactive Microsoft 365 security as well as implementing world-class tools and training.
I want to future-proof my business and become more agile
Our strategic technology planning ensures that you are implementing technologies that will help you meet and exceed your goals, adopting them in the right ways, and have a predictable monthly spend that leads to measurable business outcomes. It all starts with a Solid Systems Review.

I want my teams to be as productive as possible
We believe in working smarter, not harder. Our approach to onboarding, maintenance, and training will see your humans working efficiently and managing their time effectively, leaving them with more of it to spend doing the things they love with the people that mean the most.
I want to create a company culture that is focused on tech
Your company culture defines who you are, drawing talent and helping humans connect to your business. We're here to help you build up a culture that sees you harnessing the power of technology, using it to grow, exceeding your goals, and elevating human connection.
"Using Solid Systems has been a game-changer for us.
Since implementing SOLID's solutions, productivity and efficiency have been through the roof."
Skillcraft
Managing Director
Our SOLID Remarkable Promise to you
If you are not happy with our service during the first three months, we will give you a

100% refund

on your
managed service
s
fees to date.
Hyper focus on Microsoft Cloud
We are more than just a Microsoft Partner. Each of our IT Pros are Microsoft specialists, with certifications that span the range of Microsoft Modern Work, Microsoft Infrastructure and Microsoft Security platforms.
This makes us the ideal IT company for businesses that are ready to adopt Microsoft services, or already have Microsoft solutions in place. We ensure that you are putting your Microsoft tools to their best possible use and optimising efficiency through Microsoft services throughout your company – from Microsoft 365, to Microsoft Azure, to Surface Devices and beyond.
Forward thinking partnership
Chat with our friendly team.
If you want to get more out of technology and need the right partner to help you along the way, SOLID are ready and waiting to learn about your business.
"SOLID's excellent turnaround time has allowed us to continue with our work faster, thereby improving our service levels.
Solid Systems have been delivering excellent service to our company for a while now and their swift response to our tickets reflects upon SOLID's willingness to improve service delivery through these difficult times."
Our culture reflects our
values
vision
approach
You'll see this in the way we treat our staff, in our transparent management style and in the rituals we've created to help us elevate human connection and make a difference in our people's lives. 
We know times are changing, but whether you work with us or for us, we value each and every relationship because we know, that being human is the one thing that will remain constant.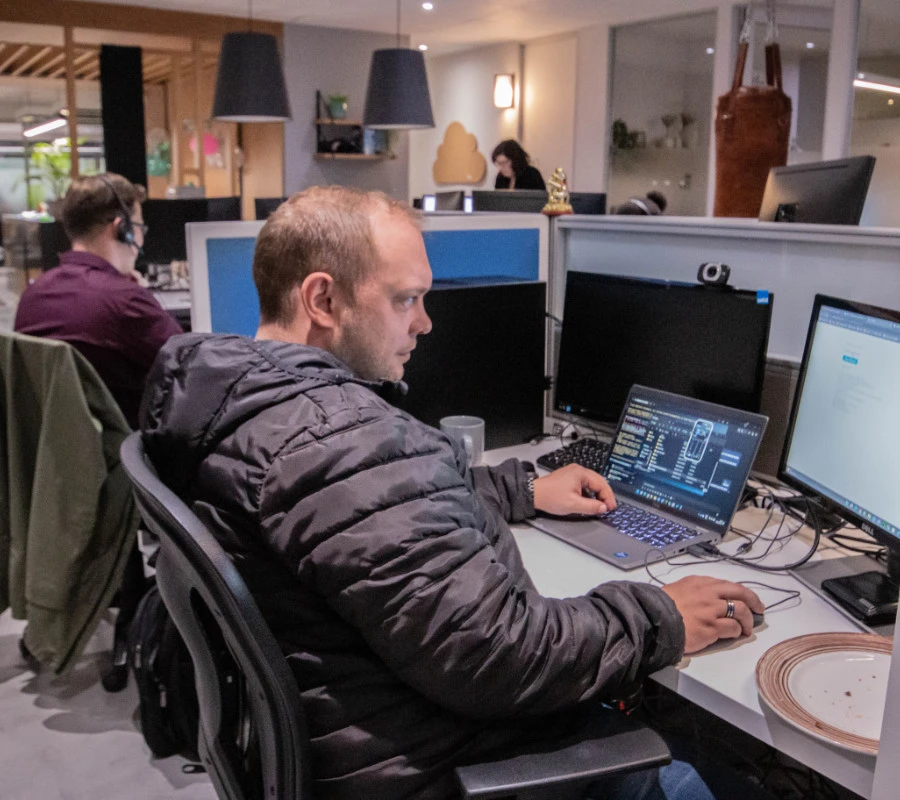 Frequently asked questions
What are the benefits of outsourcing IT services to a reputable IT company?
There are so many different benefits of outsourcing IT services, but one of the biggest is the fact that you and your humans get to spend your time and efforts focusing on your business, your goals, and the areas that are adding the most value. When you work with Solid Systems, there's no more need to spend hours troubleshooting on Google, or researching the best tech for your needs. There will be no more sleepless nights worrying about your network and your data security. You have a full team of IT professionals behind you to advise you, to put together a strategic technology plan that will meet your budget, and to support your business in the most human way possible. And better still, you don't have to manage their leave, their sick days and their salaries.
Why choose Solid Systems If you already have an Internal Technical Support Team?
So many companies have the misconception that outsourcing IT services is only useful for businesses that don't have internal IT departments. But that's just not true! At Solid Systems, we've seen first-hand how much value we can add by co-managing IT services, making world-class tools available to businesses that might otherwise not have been able to afford or manage them, and ensuring that your internal Technical Support team have the time that they need to focus on implementing innovative solutions that further your business, rather than constantly putting out fires and dealing with the day-to-day minutia of maintaining your systems, users and devices.
How can an IT company help my business be more productive and efficient?
When you work with the right IT company that is Microsoft hyper-focused, and eats, sleeps, and breaths Modern Workplace, you know that your team will find more value in their Microsoft tools, because your IT partner is going to help them find ways to work smarter, rather than harder, and make productivity a priority. And when your humans are using the right devices for their needs and don't have to spend their time troubleshooting technical glitches or waiting for an internal IT technician to get back to them, they'll find themselves with more time to focus on the areas of your business that mean the most.
What sets Solid Systems apart from other IT companies in terms of expertise and service offerings?
We have this saying at Solid Systems – "We're human not robots". And it is the core of what we do – we elevate human connection to make a difference in people's lives. And how do we do this? Our experienced and certified IT Pros go out of their way to offer exceptionally human support that not only sees your issues being solved the first time, every time, but leaves you with a smile on your face. We are Microsoft hyper-focused, which means that we know the Microsoft apps and services that you use inside out, and are able to help you use them to work smarter, not harder, and find yourself with more time on your hands to do the things that you love with the people that mean the most to you. And we know the importance of peace of mind, which is why we put world-class security tools to use for your business, so that you can rest assured that your humans, your devices, your data and your company as a whole is protected from a wide range of threats.